Our Story
It All Began 30+ Years Ago
The statement "we have been there and done that!" is an honest one.
Going all the way back to 1992, Joyce Reid created a local gift company, Creative Gifts to Go,  that mushroomed into a national one.
In 2002, she added GiftBasketNetwork, a worldwide directory of gift companies that sends traffic to our member companies.  Many of those original members are still with us today.
The next step was adding the community in 2008, located first at GiftRetailersNetwork and now as a Facebook group.  We have now combined all these (with the exception of my own ecommerce site ) into this one site at you are looking at today.
But to return to our story:
The two print magazines for the gift basket industry were discontinued in the early 1990's when print magazines became difficult to remain profitable.  Three gift basket company owners -- Joyce, Pam and Sandi decided to create a digital magazine and on March 1, 2010, the first issue was sent out to subscribers.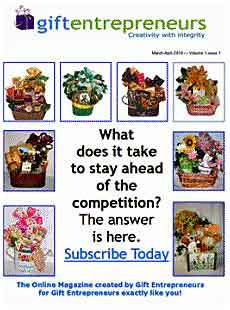 It was originally called Gift Entrepreneurs until Entrepreneur Magazine said we were violating their trademark for the word Entrepreneur. We made lemonade from the lemons they threw at us and changed the name to Gift Retailers Connection.  In 2015, we made the decision to concentrate on the Gift Basket industry instead of the broader gift retailers resulting in our final name change to Gift Basket Business Insider.
This is what I wrote as Publisher in that very first issue:
"Gift Entrepreneurs began as a seed planted on one of the forums last November when the final issue of Rave Reviews was announced. The idea took root, sprouted and evolved into what you have before you today. It slowly evolved as we worked through our own busy holiday season to meet the deadline we set for ourselves. And it will continue to evolve. It is a work of love created with the help of many people just like you.
Even though I've published a statewide newspaper, none of us are publishers. We aren't unique, special, or different in any way. We are all owners of gift companies who struggle with the same daily business problems and life as you do. When we announced our intentions and put out a call for help, the response was tremendous. We couldn't have done it without the contributions from all of you. All of you who responded are responsible for what you see here and we thank you!
Our purpose isn't to create a gorgeous slick magazine but to create one that is easy for you to use, provides information that you will find valuable enough to read and even to print out and to keep. In today's economy, producing a quality print publication is expensive and risky. This online version is what we consider to be the next best thing.
The reason you are in business is to make money. In Gift Entrepreneurs, we will attempt to help you do just that by showing photos of designs that actually sell and printing articles to help you grow your business. In each issue, we will include information for those who are just opening their doors as well as for those of you who are long-time veterans.
This isn't our magazine. It is your magazine. We invite you to submit proposals for articles, design photos, and even show us your workshop. Your ideas, suggestions, feedback, and even criticism is welcomed and encouraged!
This is our gift to you. Make it yours!"
Those words that I wrote those many years ago still ring true today but evolution is happening again.
And this website is the result.  Now, you go longer have to wait until the first day of every month to receive the magazine in your email box.  I have combined the "best of the best" evergreen articles along with conference presentations and blog articles into 'All About Gift Baskets."
Not nearly as important as the history behind this website but a question that is frequently asked is "Just who is behind All About Gift Baskets ?"
Who is  Behind All About Gift Baskets
All About Gift Baskets and GiftBasketNetwork are divisions of Creative Gifts to Go LLC  owned by Joyce Reid
Thirty plus years veteran in gift industry
Award-Winning Designer
Staff writer for Rave Reviews for six years
Faculty of Cherie Reagor's Gift Basket Connection's Conventions
Faculty of Celebrate Xpo! Convention
Former SCORE Counselor and President of Flagstaff Arizona SCORE
Small Business Coach/Consultant for Coconino County Arizona Small Business Empowerment Program
Small Business Influencer Award
Wall Street Journal Women of Note Award
Featured in print book — A Cup of Cappuccino for the Entrepreneur's Spirit
Owner: GiftBasketNetwork.com, Creative Gifts To Go, , and GiftBusinessOwners
Published author: Runaway Secrets and E-Commerce Websites that Work plus various E-books and magazine articles for local, regional, and national publications.
Former founder/publisher of statewide newspaper
Former member of City Council, School Board, and Planning Commission
Founder of Magic Curtain Productions Children's Theatre
A Personal Letter From Joyce to You
I started this website  because I was sick and tired of get-rich schemes and information that is mostly fluff or thinly-veiled sales pitches.  If you've been bouncing around on the Internet and, like me, you're tired of bombastic, crappy (yes crappy -- unfulfilled promises after you pay your hard earned money) information, I want to make sure that your search will end here.
My goal is to make sure you get the best possible information on topics vital to building your business without having to spend a fortune.  Topics like customer retention, both online and offline marketing, successful sales tactics, advertising, add-on niche markets that can increase your income and more.
The information is based on years of tried and tested common sense methods of creating, building, and growing a successful business (by successful, I mean profitable) that has survived the ups and downs of the of the economy.
The key to success is getting all the pieces of the puzzle and fitting them together.  Sometimes that missing piece is so elusive that it takes hearing how someone else fits it in to result into that ah-ha moment.
I am providing you with those pieces.  Take what you need and use it to grow your business.  And when you need help, I am here for you.
But I will NOT be your "Coach."
Your Mentor, by all means.  But your Coach, never.
People have asked me for years why I don't offer coaching packages.  Your know, the kind where you pay me so many dollars for an hour or a year's worth of working with you personally to take your business to the next level?
I don't have anything against coaching, but personally . . . I prefer to earn my money doing what I teach.  And I do earn my money from my own gift basket ecommerce business.
That said, I do have a Facebook group where I, and many other experienced gift basket company owners answer your questions and provide the mentoring you need.
Never feel that you are alone.  Join in the conversations in our community, share your passion and your knowledge.  Sharing is what make life wonderful!
Your friend and mentor,
Joyce Reid