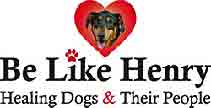 Let's start by learning more about WHAT we do and next month I'll dive into how you can HELP.
Be Like Henry is a 501c3 whose mission is "healing dogs and their people."  Since we are not a rescue or shelter, we partner with other non-profit groups across the country to send them "things" that they need.  We do not send money.  Our paramount objective for donors is transparency, so when we send "things" we ask for a photo in return.  The photos show our donors that their funds did go exactly where we said they would.  We appeal mostly to skeptical folks who won't give to Group A, for
example, because 85% of the funds go to "administrative costs."  We have none.
So what have we done?  Our 3 major projects in 2020 were these:
Donated 13,374 lbs. of dog food to 11 different impoverished groups
Funded construction and sponsored 6 dog kennels at the Domestic Violence Shelter at the YWCA in Nashville so women could leave abusive situations WITH their dogs
Donated 17,500 Kn95 masks to first responders, police, fire, medical personnel & others in all 50 sates, DC, Iraq and Afghanistan
Our goal for 2021 is to donate 50,000 lbs. of food to shelters in need.  We want to reach more groups in general.  I can't wait to report back with our 2021 projects.  But first, let's set the stage for WHY you might want to consider working with BLH.
We would help a rescue/shelter in YOUR TOWN that you could promote to your clients.  Showing the compassionate side of your company can never hurt!  Helping your specific area improves your visibility and pays it forward.
We do what we say, when we say we will do it, where we say it will happen.
We would create the contests, taglines, etc. that you could incorporate into marketing campaigns.
In the next few weeks, put on your thinking caps and do some research.  Find out what non-profits in your area need help.  See if they'd want to be part of receiving assistance in exchange for just a photo.  There is no such thing as a free lunch, but a pic is a small price to pay.
Cheryl Pliskin, CEO & Founder   Be Like Henry    henry@belikehenry.org    www.belikehenry.org