Go from Good Enough to GREAT!
Twelve times a year, a magazine (in pdf format) packed with exciting ideas to insure that you grow your business from Good to GREAT will arrive in your email box!
The only sustainable competitive advantage that you have is knowledge and creativity.
It can't be copied or replicated.  It can't be outsourced to the lowest bidder.  You can't grow your gift business on price alone.  You need to be more creative and do things differently than your competitors.  Gift Basket Business Insider gives you valuable information about technology, SEO, design, marketing, design, ways to expand your business, and much more to trigger your own creativity.
We know you're busy and magazine subscriptions probably aren't on your priority list so we remind you when it is time to renew.  And best of all, a subscription to Gift Basket Business Insider is budget friendly — less than ten cents a day.
Want to see a sample issue first?
Download an actual issue of GiftBasketBusinessInsider magazine
and see for yourself.
Ask yourself these two questions:
How much will it cost you to subscribe?
How much will it cost you in lost business if you don't?
Subscribing is easy.  Subscribe today so you don't miss a single issue!
One Year Subscription to Gift Basket Business Insider Magazine (12 issues) is only $29.95. Please make sure that you use an email address that will accept incoming emails with attachments.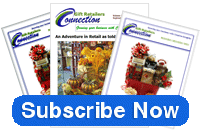 We invite YOU to see for YOURSELF!
Download a FREE copy of GiftBasketBusinessInsider Magazine
Download your free issue here!
Each and every issue is jam-packed with tips, articles, design and marketing ideas and much more to help you grow your business from good to GREAT!
Here is what the former publisher of Rave Reviews has to say about Gift Retailers Connection magazine:
Congratulations Joyce and team! Your magazine is  filled with beautiful designs and insightful articles that I'm sure your readers enjoy. I know many in the industry miss Rave Reviews Magazine and your  online publication will surely help to fill that void. I thank you for stepping up to the plate and hope that industry members will support your new endeavor by subscribing, so that you can continue to bring valuable information their way. While I am having a blast in my new venture, my thoughts are always with my many friends and associates in the gift and gourmet industry, and I wish all of you continued success! I hope that you will all support the actions of Joyce, Sandee, and Pam as they share with you the years of valuable expertise that will only make your businesses stronger!
All The Best!
Cherie Reagor
And another leader in our industry:
Congratulations to you and the staff on your launch. I plan to share this information with my blog readers and on my Facebook fan and group pages.
Wishing you the very best,
Shirley George Frazier Gift Basket Industry Expert and Author www.giftbasketbusiness.com
But you don't have to take anyone's word for it.
 Download a free issue and see for yourself.
1. To download the magazine, click 
Free Issue
 If you have any trouble at all downloading it, email us at giftbasketbusinessinsider@gmail.com  and we will send you the magazine as an attachment.
2. Since this is a pdf file, it will open automatically. The magazine will probably open at 130% size. It is best viewed at 100% size.
4. Once the file is open, you can adjust the size of the pages on your screen by clicking + or – just above the publication. The ideal viewing size for most screens is 75 to 100%
5. If you have any problems at all, please email us at joyce@giftbasketnetwork.com
Note:
The magazine is a PDF file. Most computers (both PC and Mac) have readers already installed that allow you to open pdf files. If you have a pdf reader, simply download the magazine by clicking the link above. If you are unable to open it, you can download either the free version of adobe acrobat (download here)