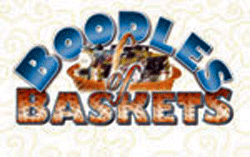 Visit our Website: www.boodlesofbaskets.com
Office hours 9 am- 4:30 pm EST Monday-Friday,
Phone: 1-519-979-6668 Toll Free 1-866-308-4438
email: [email protected]
Boodles of Baskets gift baskets, cookies, fudge and popcorn gifts have been delivered to every major city throughout North America over the past 23+ years. Whether you need a gift basket delivered to Toronto, anywhere in Ontario, or throughout Canada, for that matter, we give you our word that we will do what we say and say what we do. We offer themed gift baskets including
New Baby Baskets
Christmas Baskets
Birthday Baskets
Get Well Baskets
Wedding Baskets
Mother's Day Baskets
Other Holiday Baskets
Our customers from all over the world count on us when they need to send gift baskets to their loved ones, family, friends and business associates from PEI to Toronto, Ontario to Vancouver British Columbia. You name the place and we'll get it there.
Our gifts are packaged so carefully, it doesn't matter if they're going to Ottawa, Calgary or Nova Scotia, if it's in North America, we can get it delivered, and it will be as beautiful when it arrives as when we built it, that, we guarantee.
We are clear evidence that a Canadian gift basket Ontario specialty shop does not necessarily mean the products cost more. What you will find, is an assortment of gifts that you may not find anywhere else. Since 1995, we have been providing gifts to show appreciation or say thank you on behalf of our corporate customers; sharing joy with our wedding and anniversary baskets; assisting in welcoming a new baby with our baby gifts; sharing in the birthday celebrations of children, men and women; sending get well wishes; and offering condolences with our sympathy gift baskets.
We know how important it is for you to be sure that your basket has been delivered. That's why Boodles of Baskets, Canada's preferred Canadian gift basket company provides a follow up email with your delivery information and tracking number. This enables you to confirm your gift basket has been delivered, what time it was received and who signed for it. It's never been easier to shop online with the peace of mind of confirmed delivery from Boodles of Baskets