Gift Basket Network – Who We Are
About Gift Basket Network
Established in 2005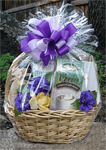 As a 22+ year veteran of the gift basket business and publisher of the industry's major gift basket magazine, we are very familiar with gift and gift basket companies across the country. When our customers made us aware of the difficulty they were experiencing trying to find a reliable company when they needed to send a gift, we started Gift Basket Network as a one-stop shopping resource. We've accumulated a directory of "the best of the best" in one location.
You, the customer, can choose from any of our companies. Almost all deliver locally and ship nationwide.
Anyone can start a gift basket business but most fail during the first year. The group of designers, who are a part of the online gift basket directory GiftBasketNetwork.com, have proven to be professional business owners who know how to operate and sustain a viable gift basket business. In order to be a part of our online gift basket directory, they must offer quality products and superior customer service.
Each company in our directory is independently owned and operated and each company offers their own unique designs for local delivery or nationwide shipping.
Since each gift basket is a custom creation, put together with fresh products at the time you place your order, it may not look exactly as pictured. Each designer reserves the right to make substitutions of a comparable product should a product pictured in the basket not be available. During the warmer months, substitutions are usually made for chocolates when the gift is to be shipped.
Management – Who We Are
This online gift basket directory is owned and operated by Creative Gifts To Go LLC. a 22 + year-old company based in Flagstaff, Arizona. Its owner and CEO, Joyce Reid, well-known in the gift basket industry as a published author and contributor to the industry in a number of different ways.  Joyce owns Gift Basket Success Cafe and Creative Gifts to Go LLC and publishes the industry magazine GiftBasketBusinessInsider. She has also been a member of the faculty for national gift basket conventions and tradeshows.
If you are a gift basket company and have an interest in being added to our network, please see membership information.
Please use the contact information below for any questions or comments:
How To Contact Us
Creative Gifts To Go LLC
Business Hours
Office Hours: 9am-5pm PST Monday through Friday
Website Hours: 24 hours a day, 7 days a week
Contact Information
Phone: (928) 774-7629
Fax: (928-774-7709)
Email: [email protected]
Mailing Address
Creative Gifts To Go LLC
1911 East Rainier Loop
Flagstaff, AZ 86004