19 Gift Basket Entrepreneurs Confess Their Biggest Mistakes When Starting Their Business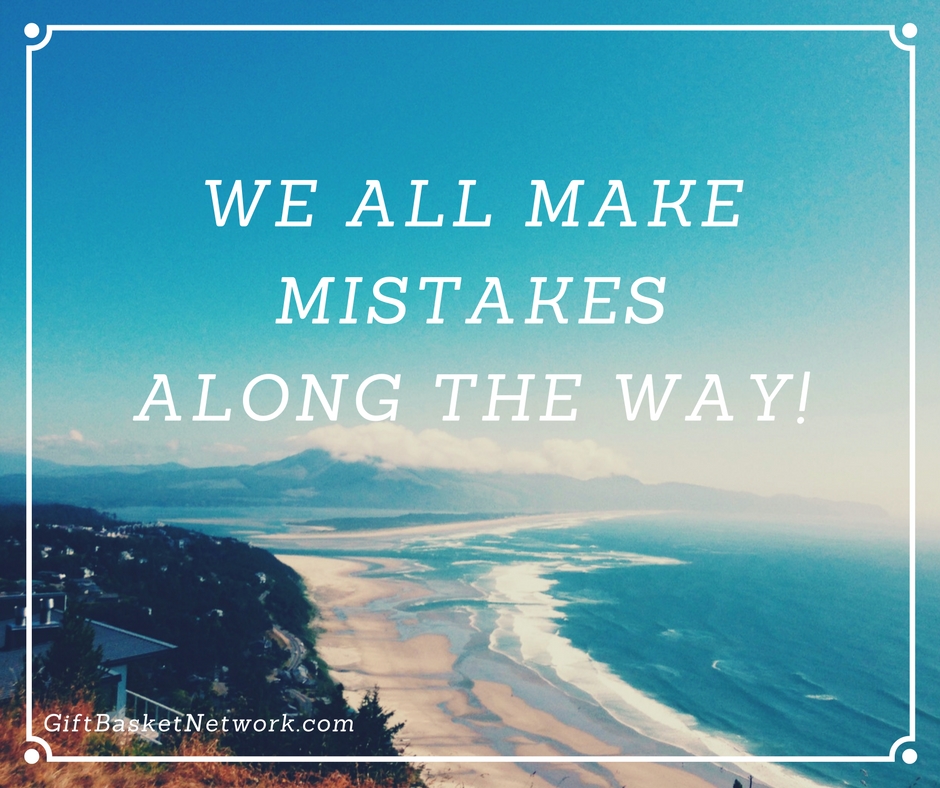 Are you a gift basket company owner  that is struggling to earn more money with your gift basket business but you just don't know how to do it?
Do you ever get that hopeless feeling every time when you read how easy it was for others in the same industry to start and grow their business to success?
Well, let me tell you that it just isn't so.  Even the most successful gift basket company isn't infallible and we've all made mistakes.
That's why I decided to ask a variety of top entrepreneurs the following question:
What was the biggest mistake you made during your first year of business
and how did you overcome it?
After reading their answers I can tell you one thing.  Don't worry!
Even the top companies made mistakes when they were beginning  so there isn't any reason why you can't become successful like they are.
This post was first made in 2016 and some of those who answered are now retired.  But their answers are as timely today as they were back then.  If you would like to share "your biggest mistake you made during your first year of business," add it in the comments below.
Mistake #1 – Not knowing what customers want: 
Glenda Drum of Baskets from the Heart , located in Shelby NC explains it this way:
"I would say my biggest mistake was not knowing what customers would actually want in a gift basket. Somehow I perceived a gift basket with "cute" little gifty items in there. So I started purchasing cute little things like that to include in a basket to help carry out a "theme." I soon realized that what most customers want in a gift basket is food.
Unfortunately, once you buy things you are basically stuck with them, so I didn't really overcome that error and to some degree remain stuck with those type inventory. But I did learn my lesson and basically purchase food for my gift baskets."
Glenda describes her business as: We provide you with beautiful gift basket designs for any theme, holiday or occasion.  We also offer most live floral service from cut flowers to indoor or outdoor plants.   Also available are gifts in most themes for your alternative choice.  Our business is dedicated to providing the most upscale, unique gift basket designs and service in the area. Our slogan for the corporate market is "Move your gift-giving problems from your desk to mine."  We specialize in making you look good to your client, customer or employees.
Mistake #2 – Buying food that could be used in only one theme
Sherry Cooter of
Bouquets that Stay
, located in Dallas Texas tells us:
"Seems silly to say, but after attending a gift basket convention in Houston and looking at the gift baskets in "Gift Basket Review," I thought I should do the same kinds of designs and bought cases of food items that I used only in one type of theme, like tea cookies in tea baskets and not using them in anything else, etc.  …duh!  Didn't take long to figure out I wasn't selling enough to do that without them expiring first!"
Bouquets That Stay provides same day hand delivery and nationwide shipping of gifts and gift baskets
in the Dallas-Fort Worth metroplex.  All occasions, themes, and Texas gifts.
Mistake #3 – Ordering too much inventory
Grace Little, owner of Graceful Gift Baskets in Spokane, Washington shares:
The biggest mistake I made was ordering too much inventory for the amount of customers/orders I had. Not knowing what kind of inventory I should order contributed to this mistake.
I overcame this by taking more time and really assessing who my customers were and what type of inventory I needed for those clients. This took several years and was an ongoing learning process. I still at times over order. I am afraid of running out or low, so I order more than I need and end up with expired product. Or, I anticipate some products for themed baskets will be popular and want to have plenty on hand (for one…breakfast baskets with pancake mixes and maple syrups, which I way over ordered on!)
On the other side, I have often under-bought, so as not to have a lot of expired product, only to end up being short. In that case, I had to substitute (which I hate doing) so as you can see I still deal with this, although It has improved considerably over the years since 2007.
Mistake #4 – Marketing to the wrong people
 We're talking 1991 when we had a shop. I didn't believe people would spend more $20-$30 on a gift so I put very inexpensive baskets out and they flew off the shelves. Then a company asked for a $100 gift basket and I quickly realized I was marketing to the wrong people and I started going after the corporate market.
Pam Monroe
Formerly A Gifted Basket
San Diego, CA
Mistake #5 – Had to learn the importance of presentation and perceived value
Pat Carter of Patrice Gift Services, located in Houston Texas, says she made several:
Mistakes I made during my first year – how do I narrow it down?  There were two main ones:
1.  I had a client who specified "no frills" packaging, so I did just that.  People advised me against it, but I was determined to follow the directions.  BIG MISTAKE!  I found out that wowing the client with a presentation is very important.
2.  Thank goodness there are no pictures of the baskets from my first year.  I was so proud of what I did, but it took a prospective client to teach me what "perceived value" is.  Just because I knew what was in the basket, didn't mean that the client could see it for all of the air.
Figuring out what the client really wants rather than what they say is one of the challenges in this business.
Fast forward to the present – I am still learning something about this business every day.
Mistake #6  Not researching places to buy wholesale before the holidays hit

Celeste Yakawonis of Maine Made Gift Baskets tries to remember:
I've been making baskets for 18 years now, I can hardly remember my first year in business. I do remember the biggest mistake was not realizing that at the holiday, companies run out of products , and I did not have a good source for baskets. I got through it by going to a local floral wholesaler and getting baskets. Then I looked for local products to use and I probably got some items from Imperial Foods. I spent the second year researching wholesale companies and the baskets were much better. There were probably forums, but the connection and resources to something like your group weren't readily available like they are today.
Mistake #7 – Creating what she thought her customers wanted but didn't
Wow, one mistake.  How to reduce a whole year to one mistake.  This is really hard.  There were so many big ones. Now that I think about it, I'm surprised I'm still in business.
I think the biggest mistake I made was creating the store I wanted, not the store that met my customers needs.  I had a vision of what I thought would be an instant success. What I ended up with was everything I ever wanted but nothing that would sell.  I didn't do my market research.  I didn't pay attention to what the customers were saying.
Through my mistakes, I quickly learned that if I listened to what the customers who visited my store said they wanted, and I created an environment where my they could find those items together with some unique items and traditional products, they would come back more often for gifts and for special treats for themselves.   I grew my business bigger and more cost effectively because word of mouth advertisement is a lot less expensive than ineffective print advertising.  Now, when I go to a gift show or chocolate show, I try to remember what my customers are looking for instead of the item that makes ME say "Ooh, I love that!"   I won't lie, I still struggle with that, but I try to remember that my storage is full of "I Love Thats," collecting dust, and my money needs to go towards things that my customers find value in.  Remember, having a beautiful store is a great thing, but having a beautiful store that sells it's inventory is what's important.
Maureen's Sweet Shoppe is a candy and gift basket boutique.  Since 2009, we have manufactured our own chocolates in small batches to maintain freshness and quality. We are known throughout the area for our gourmet Chocolate Covered Oreos and our authentic English Toffee.   
Mistake #8 – Inventory control and over ordering
Derek Thielke of Northwoods Cheese Company, a manufacturer and wholesaler of shelf stable cheese and gourmetfoods for the gift industry, remembers:
Inventory control and materials purchasing was our biggest mistake during our first year of business.  We got so excited about our new business, we purchased some boxes that we were doing for a gift for one of our first large customers.  We took advantage of some special pricing that we could get for the boxes and purchased way more than we needed.  After 16 years, we have worked through about 60% of those boxes.  Check back with me in another
10 years and I will let you know how it is going.What we have done to overcome the situation is to only have one person do the ordering and wait until actual purchase orders come in for our customers, before gathering materials to assemble gifts.  It does create some problems doing this because it extends our lead times, but cash flow is more important than lead times when you think about it.  This situation almost put us out of business.
Mistake #9 – Trying to Fill Every Niche
The biggest mistake I made during the first year of business, was overspending for products -generally trying to fill every niche.  It took me forever to unload most of the hard goods- containers, trinkets etc. After taking a few years off,  I have reopened but working leaner than I previously did. I now cater to a select group of niche customers.  I have learned you can't please everyone all of the time!!
Mistake #10 – Believing that products will sell themselves.
For many new entrepreneurs like me, the process of launching a company begins with the lightbulb moment when we conceive a bright idea for a new product. Often, we are so passionate about the idea that we believe its virtues will be evident to our potential customers — that our products are so unique, beautiful and obviously superior that they will sell themselves.
Unfortunately, it's not that simple. A common mistake I made is thinking that if my gift baskets were great therefore my company will succeed. It may be a lot easier for a brick and mortar company to succeed. The phrase, 'build it and they will come' does not work in the online and customized gift-basket industry.
So much goes into creating a successful business, especially in the new age of technology. I mistakenly thought having a website was easy; again a huge learning curve.. There is so much to do with a website that it is overwhelming – learning SEO, back-linking, learning about content being king, and not only content, but provocative, stimulating information. I've also learned that websites have only seconds to capture interest and needs to be worked on constantly.
My biggest issue however is making sales calls. I've never had sales training and I needed to recognize a simple fact: marketing, salesmanship is pivotal to the success of my new company. New business owners initially ignore this, to our own detriment.  With no sales experience and not having taken classes in how to sell.
If I had to do it over again, I would focus my energies on
Looking at successful techniques, models, and strategies.

Understanding what the pain point is in my marketplace, and how best to do use my product to help the customer.

Modifying  procedures, systems, or

Methods of developing external relationships.
Making such modifications could set the course on a different direction and a bright new future. I foresee a long series of hurdles, but I understand it will take time to developing lists of prospects, identification of likely targets, obstacles in getting past gatekeepers, securing appointments, find acquaintances who could make referrals simply to secure an appointment and finally, what makes my product different from and stand above the alternatives.
I am destined to fail, unless I embrace other strategies. – hiring a salesperson, an internet expert and/or a mentor.
Mistake #11 Excess-Prepacking of Gift Boxes at Christmas
Diane Dick, from Apex Gift Boxes Ltd, Leeston, Christchurch, Canterbury, New Zealand  remembers:Thank you for the opportunity to share with you my biggest blunder in our first year of Christmas gift packing.  I had heaps of staff that I had employed, thinking that I would need them all and in hindsight probably could have done the job with half the number. So to keep them all busy during packing, I had them pre-pack lots of the different size boxes that we had available for sale, in anticipation of lots of sales or big orders in these price brackets.You guessed it, the orders for those sizes just didn't happen, everyone wanted bigger ones, or personalized ones!!!  Come the end of the Christmas pack, I had to painstakingly unpack all the products, remove the woodwool, and undo all the boxes to pack them away.  Lesson learnt, unless you already have an order for that product, then don't merrily assume that it will come.  Now we pack to order. We remove stock from our shelves for each bulk order placing them into a box with the customer's name on them. Then when we're ready to pack we just pull up the box and get to work.
At Apex Gift Boxes, we create gifts for all occasions for our business customers and personal clients throughout the world, delivering great service within New Zealand. With over 12 years in the gift industry our many customers enjoy our personal and caring approach to their gift giving and come back time and time again. 
Mistake #12- Starting a Business without Knowing What She was Doing
Lisa Chalker, owner of Family Affair Distributing Inc. located in Long Island, NY  shares:
My biggest mistake was NOT knowing what I was doing…literally.
My business "fell" into my lap and I had no idea how to make gift baskets, how to order, how to decide what to charge and how to get business!  Oh, and did I mention that I did not have money so ALL my purchases went onto my credit card building up a debt I have been dealing with for many, many years!
My first step to overcoming all of this was to educate myself…I found teaching tapes from Cherie Reagor, Mary Ann Jacobs and I got industry magazines.  I learned HOW to create great baskets, how to ship them, how to figure out what to charge and who I could target as clients.  I was constantly evolving and making changes once I found out what to do differently.  What a difference information can make…AND, I branched out to include imprinted promotional products and decorated apparel so that if a client didn't need a basket, they could still use my services and I would still get the business  OR I could incorporate the premiums into my corporate baskets.
One more important thing I learned…I MUST always be networking!!!  That is sooo important and I would have to take another 4 paragraphs at least to tell you how crucial it is for building up your business and that if you don't network, and network effectively, you will never see the growth you want to see!
Family Affair has grown into a marketing company that helps reinforce a client's brand through the use of either imprinted promotional products, decorated custom apparel or gourmet gift baskets that can be customized for the client's needs.  I also have strategic partnerships with PR and Advertising Firms, Graphic Designers and Social Media companies to be able to be a one stop resource for my corporate clientele and to have a referral relationship with these "sister" companies.  I differentiate my company from my competitors by being value driven instead of price driven and being consultative rather than a commodities type of broker.
Mistake #13 – Not Knowing Her Target Market and Marketing too Broadly
Deb Walton, owner of  Indy City Gift Baskets shares:
My biggest mistake in business took me much longer than the first year to learn. Maybe I'm just a slow learner. I thought making and marketing beautiful baskets would bring more business in my door. After all, I was receiving extraordinary compliments on our designs. My target market was corporate, I was marketing to banks, law firms, CPA's, real estate, professional services, manufacturing. Anybody and everybody corporate. After all, my target market was anybody and everybody.
Then I learned a very valuable lesson, it was not about my design, the beautiful bow, the details I put into the gift. What does this gift do for the sender? What will it accomplish? The Corporate Anyone and Everyone clients were not purchasing from me every month or every week. They were buying a gift on an as need basis. They sure were not buying 20 gifts, all the same, every week.
I shifted my marketing, I finally figured out who was going to buy every month, or even better, every week. Here is my breakdown, you can see I've figured out my target market.
Corporate – Anybody and Everybody 42 gifts
Senior Communities 125 gifts
Residential Contractors 226 gifts
Know your target market and focus your valuable time marketing to them.
Mistake #14 – Selling without Listening
Cheryl Pliskin, owner of  Jest Notes & Baskets  recalls:
I'd have to say that the biggest SELLING mistake was doing just that:  selling without listening. It takes time to learn how to network properly and without being in the prospect's face BEFORE establishing a relationship.  Learning that giving first was significant, learning that there has to be a need before you can suggest a solution and learning patience were huge.
On the BUYING side, I bought too much of some items that I thought would be critical before knowing if there was a market.  Case in point:  all that dang cow ribbon!  I still, almost 25 years later, have some rolls left.  Avoiding impulse shopping, bringing in too much of a specialty item that isn't universal enough for different types of gifts and just not getting spread too thin were key lessons.
And still are.  😉
Cheryl and Jest Notes and Baskets has won many awards through the years including:  (1) Burlington County Regional Chamber of Commerce 2015 Voice of Business Award: Business Excellence fewer than 25 employees (2) South Jersey Biz 2014 Small Business Award for Relationship Building (3) One of South Jersey Magazine's 2013 Super Women of the Year (4) Named by The Voice as a Mitzvah Hero for 2013 (5) Tri-County NJAWBO's Business Woman of the Year for 2010 & 2008 (6)  Named one of New Jersey's Top 30 Woman Owned Businesses by NJAWBO for 2007(7) Named 16th Fastest Growing Company by Philadelphia Business Journal in 2006
Mistake #15 – Having a mistaken conception of what a gift basket business is
Nancy Stingone, owner of Unique Design Creations tells us:
The biggest mistake I made during the first year in business was my "perception" of what a gift basket business should look like. I saw the business as just making gifts for woman with alot of "fluff".
Over the years and through networking I have learned to expand my business, developing programs, and letting my clients know how I can help them in their gift giving needs. And, that I am their "Go to Person".
Unique Design Creations offers gift baskets for corporate companies, small businesses, as well as for your family, friends and co-workers.  Nancy gives her clients my personal touch, as well as my expertise to design unique gift baskets for all special occasions and events.  We offer Real Estate Programs, and Assisted Living Programs.
Mistake #16:  Opening her business without research or knowing anything about the industry or business in general.
Sylvia Thompson of Baskets Galore by Sylvia says:
 I didn't research this type of business before I open my doors, therefore I had a lot to learn,
If I had, I don't think I would have started it and that's just based on the Florida's health dept. law.  With that said,  I spent money, purchased a lot of clearance and  on sale items, garage sale baskets/stuff, and filled up two rooms right quick.  I wouldn't do that again.
I also didn't learn how to market the business, am still bad about that today,  Didn't know how to really run a business, so things happened with products and customers.  I had to ask a lot of questions, all the time.  I am  so thankful for the gift basket forum, as it was a life saver for a know-nothing business owner. Of course I was working full-time, taking care of my mother and father and my own health was not great. I have since retired as of 11/15 and hope to spend a little more time on the business that I didn't have before.  Tthe business is still struggling after all these years, Can't believe I opened in 2004
Mistake #17 – Extending Credit to New Account without Down Payment
Cherylann Stachow, owner of https://www.boodlesofbaskets.com Boodles of Baskets in Canada, tells us:
One of the biggest mistakes I made, (although it wasn't in my first year of business, it was in the early years),was extending credit to a new account instead of requiring 50% down on order placement and balance due on delivery. (After I've worked with a customer for a while, I do offer them net 30 with a credit card on file for backup). This is our standard procedure and boy did I regret wavering from it.
It was a large cruise company that was opening to do cruises within the Great Lakes.  I had found out they were coming to our area, so I contacted them about doing gifts for their guests.  It was a fantastic contract with us being entrusted to do both a bathroom "spa type" basket as well as a keepsake logo cooler bag filled with snacks for the guests.  I had an official contract written up that covered the season. I did receive payment by check for the first order as stated above and the check cleared no problem. Deliveries were done weekly to the ship when it came into port.  To make a long story short, the second invoice, which was net 30 was not paid. At this time, they had received three deliveries on credit (about 200 gifts per delivery).  I was smart enough then to refuse any future deliveries until the past due was caught up, but unfortunately the company went bankrupt and owed millions, so my chances of recovering my losses were zero.
This could have bankrupted me as well, but an amazing thing happened. I called my suppliers, who I owed money to and explained the situation. As I had never missed a payment EVER, they all were willing to work with me and allow me a much longer period to pay them off and some of them even absorbed some of the debt and let me pay less than I owed.  To this day I have never forgotten their kindness. I have stayed a loyal customer and continue to pay ALL of my invoices on time or early.  I also learned to be very diligent in making sure to stick to our procedures regardless of how great the contract sounds. If the customer is not willing to follow these terms, I let them go. I am the guardian of my business and I must treat it like the treasure it is.
Mistake #18 – Not making a profit on gift baskets
Karen Vause-Green, owner of Turquoise Ribbon Gift Baskets  located in Fredericksburg, Virginia, remembers:
The biggest mistake I made my first year was, not making a profit on my baskets and sometimes not even making my investment back. I overstuffed my baskets in an attempt to really wow my clients but in the end what happened aside from me not making money was, the client came to expect this "overstuffed" basket every time.
I had to stop and re-think  and re-work my baskets.  I had to learn to tone down the amount of product all while keeping the "wow- factor", that they were use to receiving from me. I had to realize that sometimes less is more,
Mistake #19 – Not Charging Enough 
Karen, owner of  Georgia Gifts and More says:
 I laughed when I read the topic. One of the biggest mistakes I made when I first started my business was not charging enough for my products. I was just so glad that people wanted to actually buy my stuff that I wasn't even
concerned about the profit. I didn't include a lot of variables like shipping, my labor, delivery, etc.I look back and wonder how I made any money. But since I was home-based at the time, it didn't seem to matter.
Eventually, as the business began to grow, I had to increase pricing. But that made it difficult for some of my customers who were used to getting such a great deal to stick around. They took their business elsewhere and I
learned a valuable lesson…price it right from the beginning. If you short change yourself or bend the rules to give a great deal or get the sale, they'll expect that same low cost every time.And now, a note from me:
This has been a fun post to write — because all of you wrote it. I would like to personally think those of you who took time out of your busy days to share your experiences with our readers.
It was interesting to see that most of us make many of the same mistakes and learn from them.  Cheryl's response about her cow ribbon reminds me of that peacock print cello that every teacher at one of the conventions was pushing.  I still have a roll of that.  For those of us who started our business back in the 1990's, Celeste is right when she said that there weren't as many places to learn from.  I remember how excited I was when I first discovered Gift Basket Review magazine and the Jubilees.  And then the discovery of AOL and Prodigy groups finally gave us opportunities to network online with others all over the country.  Everyone was willing to share because we were all in this new industry together — learning as we went along.
There were lots of things that I wish I had known when I first started my business way back in 1992.  So many, in fact, that I wrote an ebook about it.  You can download that e-book for free here.