How to Have a Profitable Year-round Business
Are you interested in growing your gift basket business without hiring employees or
having to put a lot of extra hours into it?
How about not having to spend those valuable dollars
on inventory in order to make more money?
If the answer is yes, this book has been created just for you. In it, I tell you how I've done exactly that with my own business. It's all a matter of working smarter and not harder and definitely not spending lots more money.
Diversification is the secret.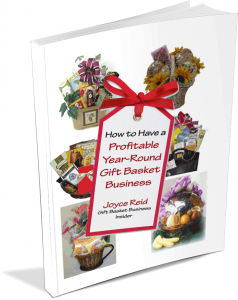 In this e-book, we give details about what we have done to grow our own business from a small local gift basket business to a nationwide gift service business.
Only $9.95