What Are Your Gift Basket Niches?
Don't think you have niches?
Think again.  And here is why you should, if you ready don't.
One of the best things that you can do to make sure your website is found is to develop your products and blog content around keywords and phrases that are more than just the hard to compete with words  "gifts" and "gift baskets."
"But my competition is doing the very same thing", you may say.  That's true, but that shouldn't stop you.  Just take it a step further and expand on those generic niches.
There are many niches you can create that people will actually be searching the web for.
"But I don't have any niches," you say.  "I sell gift baskets."
Yes, you do have niches.  And, each of these is a niche that can provide opportunities to create very focused content, with key phrases your competition isn't targeting.  How about:
Flagstaff gourmet gift baskets
Flagstaff apartment gifts
Northern Arizona University care packages
Flagstaff Medical Center Get Well Gift Baskets
Gifts delivered to Flagstaff, Arizona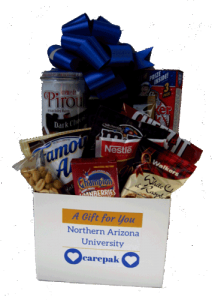 If you look at traffic statistics for a gift website that receives high traffic, you'll be surprised at the search phrases that bring in that traffic.  These phrases are called "the long tail" of search.
There are a great many more search terms that you can use to create a niche. Look at what you offer to your customers and then make a list of words that you can add to gifts or gift baskets to create those long-tail keyword phrases.
Then create content that is focused on these niche  words and phrases and optimize the page for both visitors and search engines.  There will be far less competition, and you'll do much better in the search engines.
You don't need to write a novel on these topics.  Three hundred words or so is usually adequate.  The text, combined with photos of what you can create for these niches, can make a very effective search engine magnet.
Your site can develop several niches, each as a major page with sub-pages for each title and phrase.  Why compete for the major words when you're able to get first page search positions for the lesser-used key phrases?
If you have more information than you feel comfortable putting on one page, link to sub-pages that expand on even more focused niches.
By spending time on this one part of your website, you can beat your competition.